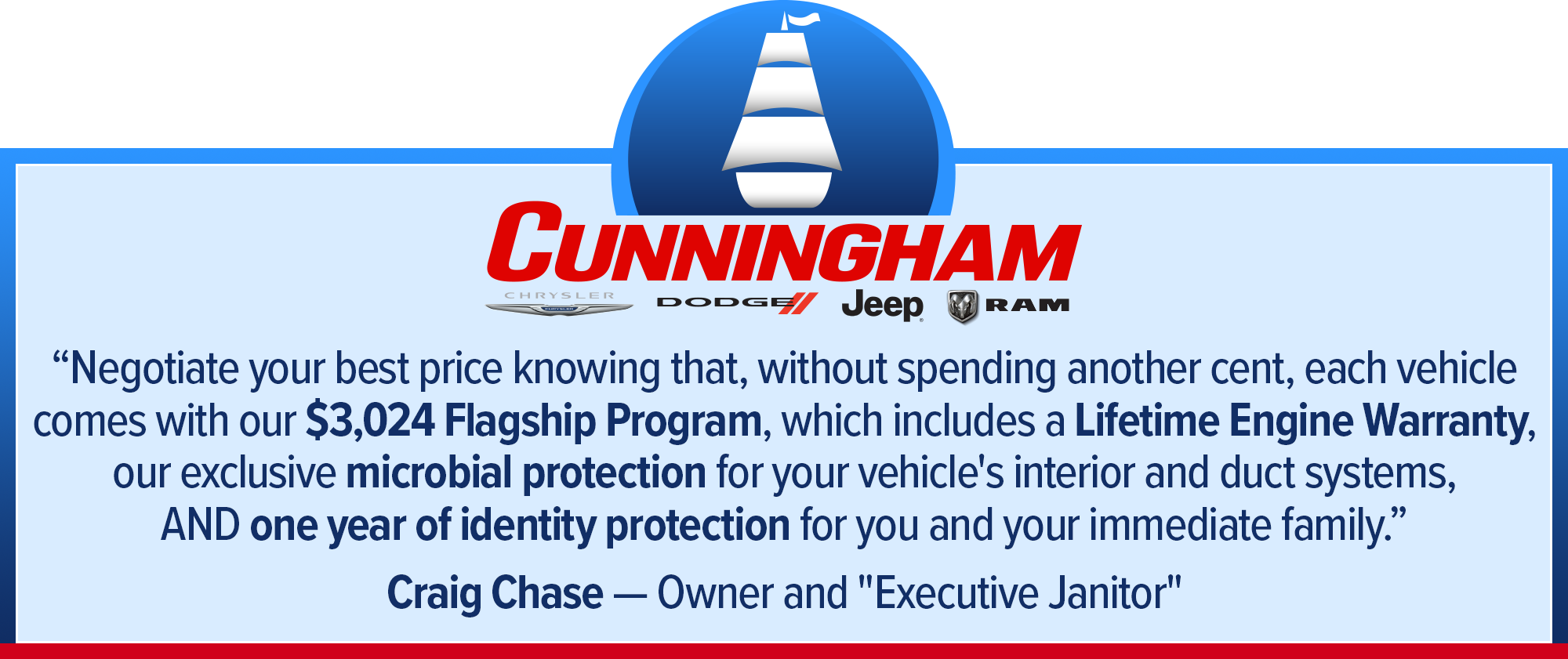 Introducing Our Flagship Program!
Are you ready to bolster your driving lifestyle with coverage that will surely have your back from every angle? Then stop by Cunningham Chrysler Dodge Jeep Ram today and discover more about the Cunningham Flagship Program. Vehicles that are 2012 model year or newer and have less than 100,000 miles at the time of delivery qualify for this unique program. Aspects of the Flagship Program include the Cunningham Lifetime Engine Warranty, which covers the cost of mechanical breakdowns when the unforeseen occurs. The MicrobeRepel™ System contains two EPA-registered products called SmartTouch and Smart Shield RTU, which can disinfect and protect various surfaces. You will also receive one-year identity protection for your whole family via USA ID. Our sales professionals will be happy to further break down the Cunningham Flagship Program and when you stop by today!

Cunningham Lifetime Engine Warranty
When you are protected under the Cunningham Lifetime Engine Warranty, it will cover the cost of repairs to numerous engine components, seals and gaskets, and even taxes and fluids. The deductible that you must pay per repair visit is $200 of the covered mechanical breakdown repair cost. When your vehicle has a mechanical breakdown and is within 20 miles of your selling dealer, you must return the vehicle to the selling dealer to receive the benefits offered by this limited warranty. If it is more than 20 miles, deliver your vehicle to a repair shop, and authorize a diagnostics test. Once you have received prior authorization, the Cunningham Lifetime Engine Warranty will kick in and have you on the way to getting back on the road.

MicrobeRepel™ System
The MicrobeRepel™ System helps keep a variety of surfaces on your vehicle sanitized and protected. The SmartTouch Disinfectant meets the EPA's emerging pathogen requirements for viruses showing efficacy against the envelope and non-envelope virus, both small and large. The SmartShield RTU, meanwhile, inhibits the growth of stain and odors that cause bacteria, mold, and mildew while creating a water-resistant barrier that protects against stains. Gain more insight into the MicrobeRepel™ System when you stop by the dealership today!

USA ID Services
The 24-hour USA ID Theft Protection & Data Security Services uses certified recovery advocates that assist potential fraud victims. This offering can document, dispute, and reverse all fraudulent transactions until the victim's identity is restored to pre-theft status. The benefits include family coverage, no exclusions, unlimited restorations, no deductible, 24/7/365 premium identity monitoring, and $1 million expense reimbursement.
Visit Cunningham CDJR Today
The Cunningham Flagship Program is designed to add even greater value and a diverse range of benefits when you purchase a vehicle from us. Between the Cunningham Lifetime Engine Warranty, the MicrobeRepel™ System, and the USA ID Services, you can rest assured that your vehicle will remain protected and you and your family will be enjoying added layers of safety and assurance, both on and the road and during your everyday activities. Contact us today or visit our showroom today to learn more about the Cunningham Lifetime Engine Warranty and our Flagship Program.
Hours
Monday

09:00AM - 08:00PM

Tuesday

09:00AM - 08:00PM

Wednesday

09:00AM - 08:00PM

Thursday

09:00AM - 08:00PM

Friday

09:00AM - 08:00PM

Saturday

09:00AM - 05:00PM

Sunday

Closed
Contact Cunningham CDJR